The Complete Bee Handbook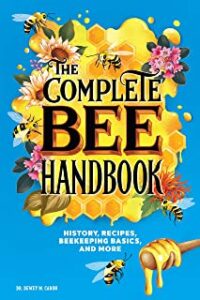 Price: $23.00
Author: Dewey M. Caron
Paperback – July 14, 2020
A guide to the history, behavior, and bounty of the honey bee
From backyard keeping to bee-centric foods and home goods, there's no end to humankind's fascination with bees. The Complete Bee Handbook is a compelling read and easy-to-use reference, packed with practical and thought-provoking information for bee lovers new and old.
Journey through the past, present, and future of the bee, including their evolution, their ever-critical role as pollinators, and the ongoing threats that jeopardize their survival. You'll also discover a short and sweet cultural history of beekeeping, the numerous applications of bee products, and tips on how you can support your local bee population.
This bee guide explores:
·       The life of the honey bee―Look into the mind of the hive as you learn about the role each bee plays in helping their colony function and thrive.
·       Beekeeping for beginners―Get simple advice for cultivating a bee-friendly garden, from preferred plants to fun DIY accessories.
·       Buzzworthy recipes―Try your hand at creative recipes for bee lovers, including mead, baklava, beeswax soap, and candles.
·
Discover everything you wanted to know about bees with The Complete Bee Handbook!
·       Publisher : Rockridge Press (July 14, 2020)
·       Language : English
·       Paperback : 198 pages
·       ISBN-10 : 1646119878
·       ISBN-13 : 978-1646119875
·       Item Weight : 12.9 ounces
·       Dimensions : 6 x 0.54 x 9 inches